Wholesale Pipe and Drape for Trade Show Booth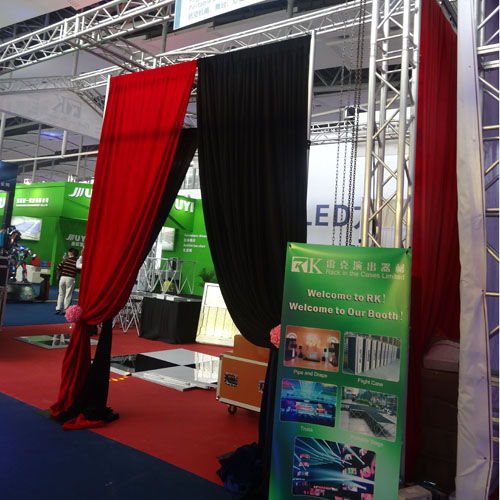 Wholesale pipe and drape for trade show booths is a versatile addition to your rental portfolio. From a gorgeous wedding canopy to a portable photo booth for a company party, using pipe and drape is a great way to create memories during all kinds of events.
RK is proud to offer industry professionals complete pipe and drape systems. Save time and money by reading below list of size on pipe and drape parts.
Base Plate: 420*400*5mm, 450*450*5mm, 500*500*8mm, 450*450*10mm, 400*400*12mm.
Adjustable Upright (Height): 3ft-5ft, 4ft-7ft , 5ft-8ft, 6ft~10ft, 7ft-12ft, 8ft-14ft, 9ft-16ft, 9ft-16ft, 10ft-18ft, 11ft-20ft, 12ft-22ft, 13ft-24ft, 14ft-26ft and customized.
Crossbar/Drape Support (Lenth): 2ft-3ft, 3ft-5ft, 4ft-7ft, 5ft-8ft, 6ft-10ft, 7ft-12ft, 8ft-10ft, 8ft-14ft , 9ft-16ft.
Drapes: chiffon,velvet,banjo cloth, poly premier, etc.
* Draperies are avaiable in various color, size and weight
About transportation, we have three packing options: 1.carton boxes; 2. flight cases; 3. bags.
Relevant Information
Leave a Reply: