use pipe drape trade show booth in your trade show set-up
This RK712
pipe and drape systems
for trade show both, use it as a focus point in your trade show set-up. It composes of Telescopic upright, Telescopic crossbar(drape support), Base plate and Drapery.
| | |
| --- | --- |
| Upright height: | 3ft-5ft, 4ft-7ft, 5ft-8ft, 6ft~10ft, 7ft-12ft, 8ft-14ft, 9ft-16ft, 9ft-16ft, 10ft-18ft, 11ft-20ft, 12ft-22ft, 13ft-24ft, 14ft-26ft adjustable, have 2 piece, 3 piece |
| crossbar: | 2ft-3ft, 3ft-5ft, 4ft-7ft, 5ft-8ft, 6ft-10ft, 7ft-12ft, 8ft-10ft, 8ft-14ft, 9ft-16ft |
| Base plate: | 420×400×5mm/450×450×5mm/500×500×8mm/450×450×10mm/400×400×12mm |
| Draperies: | are avaiable in various color, size and weight, including chiffon, velvet, banjo cloth, poly premier and so on. |
Specifications:
1. Stable, adjustable;
2. Easy to set up&storage;
3. CE/SGS/TUV;
4. 10 years guarante.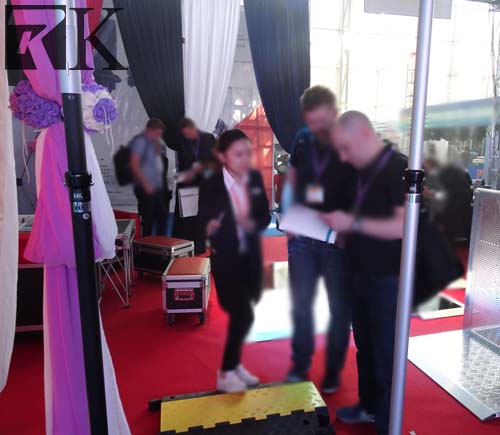 pipe drape trade show booth
Trade shows are an excellent way for your business to gain exposure and meet prospective clients. Want to stand out at trade show display? If want your brand can be seen on a myriad of trade show booths, please create a booth design that accentuates these features, with pipe and drape system.
Previous:上一篇:没有了
Relevant Information
Leave a Reply: